Shopping Cart
Your Cart is Empty
Thank you for your business!
You should be receiving an order confirmation from Paypal shortly.
Exit Shopping Cart
Margaret P. Bean Presents Sister Code the Stage Play - There's Rules to This Thing!


Play inspired by the Book Sister Code by Yolanda Brathwaite, Producer


Sister Code Cast - TEAM WIN




The Game Changer Stage Play

April 2019 at the Arc DC
We Are Game Changers ~ Who Change the Game!
Margaret, Multi-published Author & Motivational Speaker

A dynamic woman who takes pen in hand and flows in

short stories, poems, and silent moments. She shares from a place of inner beauty to bring forth words that share reality, truths and stories that edify, encourage, and simply just inspire the reader to want to read more and

write their own inner desires of the heart.

Margaret, brings her Soul-Satisfying brand to the content she creates.

Her soul stirring traditional published "Seeking God's Wisdom" was followed up by

two other phenomenal self-publish titles

"Raising the Standard in your Walk with the Lord" and the diverse writings of

"Madison St. Clair's Turning Points, Short Stories, Poems & Silent moments".




New endeavors venture out into Playwright & Director bringing Her first stage play,

"The Game Changer," debut's September 2017.




Margaret is pursuing her passion of creating quality content for the stage,

with hopes of the big screen and television next.

A Woman About Her Business!

For bookings: [email protected]




6/28/19 - Please check out my recent Article with COPA Style Magazine

http://www.copastyle.com/margaret-p-bean.html





BREAKING NEWS & CONGRATULATIONS

Margaret was honored by the Honorable Mayor Donald L. Ryan, of the Village of Hempstead NY

as one of "Best of Hempstead" find the article in the Jan 19, 2018 edition of the Hempstead Beacon.




We wish you great success in all of your endeavors

Sincerely Don

Congrats again for being named one of Hempstead's Best. All the best, Kevin Ryan, Public Relations
Click this text to start editing. This carousel is a great way to show off products or pictures of your business. You can click the green "Add Slide" button to add additional images to your carousel.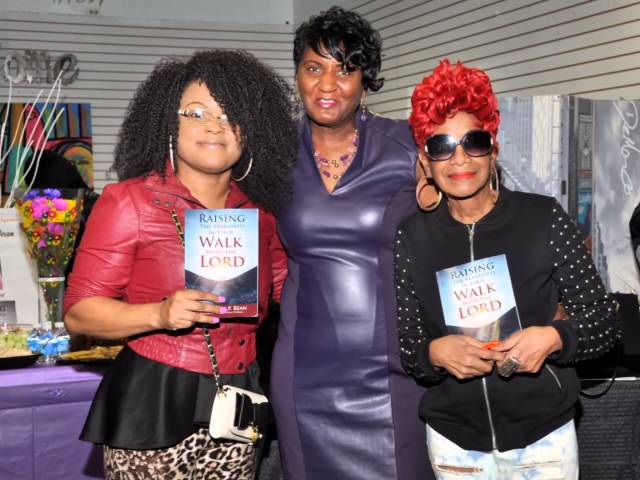 Raising the Standard in Your Walk with The Lord
Click to view the
First Book Signing October 17, 2015 at
Demarco Solar in Forestville Mall in Forestville, MD
Madison St. Clair's "Turning Points"
$15.00 plus shipping & handling $4.00
Madison St. Clair' "Turning Points" consists of short stories, poems and reflections. Margaret P. Bean's latest literary offering shares various scenarios and stories that highlight choices, consequences, and most importantly, redemption. Topics including cancer, HIV, relationships and various forms of abuse are addressed throughout this work. The overall theme is that: a higher quality of life exists if you turn bad decisions into life-altering turning points.
Raising the Standard in Your Walk with the Lord​
$15.00 plus shipping & handling $4.00

"Raising The Standard in Your Walk with The Lord" empowers every reader to strengthen their walk with the Lord, no matter where they reside in their spiritual journey. God's grace is an ever-present element in the life of every human being. As long as you are breathing, your heavenly Father walks beside you with an outstretched merciful hand; giving you the power to walk mightily.

0

/